Tallahassee Garden Club – A More Beautiful Tallahassee…
The Tallahassee Garden Club has a rich tradition of being involved in the community, a few of our projects include:
• The Third Oak Trail
• Maintaining Blue Star Markers
• Youth Gardening in the Elementary schools
• Established and maintain the TMH Cancer Center Healing Center
• Re-landscaping Lee's Place after Hurricane damage
• Spring Flower Show and Plant Extravaganza
• Plant Exchange and Horticulture
• Walk of Honor installed engraved bricks in our front walk to the Garden Center
• Contribute to Penny Pines for forest restoration in Florida
• A member of TGC serves on the Parks and Recreations Board
• Alfred B. Maclay Gardens State Park
• Goodwood Museum & Gardens
---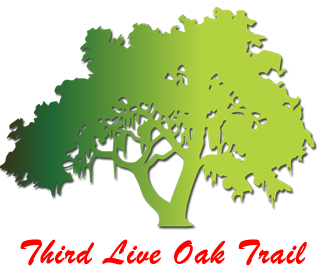 THE THIRD LIVE OAK TRAIL

The Third Live Oak Trail – A project of the Tallahassee Garden Club which hopes to raise awareness of the importance of preserving Tallahassee's Heritage Trees. CLICK HERE.
---
TMH CANCER CENTER HEALING GARDEN
This award-winning project was funded by TGC. It is a place where cancer patients, their families and the Center staff can go for respite and to enjoy the peace and beauty of nature. The committee continues the work; ensuring that the plants are getting proper water; changing out perennials and annuals as needed, and of course weeding. Like any garden it is always a "work – in- progress".
---
RETURNING WOMAN SCHOLARSHIP FUND AT TCC

---
---

BLUE STAR MEMORIAL MARKERS
National Garden Clubs has adopted the program to honor all those who have served, are serving or will serve in the future. TGC has placed two Blue Star Markers in Tallahassee, one on US Highway 90, between Riggins Rd and Phillips Rd., and another one on Apalachee Parkway, two blocks east of the State Capitol. The blue star featured on the brass memorial symbolizes the blue star on the WWII service flag which hung in so many homes of service men and women as a tribute. These markers are maintained and wreaths placed on them by garden club members on Memorial Day and Veteran's Day.
---
YOUTH GARDENING IN ELEMENTARY SCHOOLS

TGC sponsors gardens at Gilchrist Elementary and Kate Sullivan Elementary. These gardens were requested by a teacher and members work closely with the curriculum in teaching the children the joy of gardening and all the wonderful opportunities it opens.
---

RE-LANDSCAPING LEES PLACE AFTER HURRICANE DAMAGE
Tallahassee Garden Club is involved in restoration and re-landscaping after hurricane damage at Lee's Place. Lee's Place is a nonprofit grief, loss, and trauma therapy center providing professional mental health counseling and training services
---
SPRING FLOWER SHOW AND PLANT EXTRAVAGANZA

TGC sponsors a flower show in the spring, where members are invited to make a flower arrangement according to a schedule and anyone is invited to enter their award-winning horticulture. The show is open to the general public at no charge.
---
PLANT EXCHANGE AND HORTICULTURE

Plant Exchange and Horticulture on the Thursday after the 3rd Wednesday of months Sept – Nov and Jan – May.  This event is open to the public. Come get free plants provided by members and  enjoy and learn from a short horticulture program following the exchange. Door prizes and refreshments.
---
WALK OF HONOR ENGRAVED BRICKS
Tallahassee Garden Club's newest project is installing engraved bricks in our front walk to the Garden Center. A brick has been installed recognizing each of our Past Presidents of the Garden Club and each of the Circles that have existed over the past 91 years. There is a space for memorial bricks to honor past and present members of the Club or a special event.

---
ALFRED B. MACLAY GARDENS STATE PARK
TGC is a member and supporter of the Friends of Maclay, Inc. These beautiful ornamental gardens were first planted in 1923 by Alfred B. and Louise Maclay after they purchased the property for their winter home.
Magnolia and Jasmine Circles participated in the Maclay scarecrows exhibit during October 2014. "Maggie Magnolia" from Magnolia Circle, and "Pot Lady" from Jasmine Circle are featured here.
---
GOODWOOD MUSEUM AND GARDENS
TGC is a member and supporter of Goodwood. Members work as volunteers in the Gardens and serve as docents, giving tours of the Main House that was assembled in the 1830's and has played a major role in Tallahassee history since that time.
---
CITY OF TALLAHASSEE PARKS AND RECREATION BOARD
This board serves as advisors to the Tallahassee City Commission and according to the City's by-laws at least one member of the Board will be a member of the Tallahassee Garden Club. The Board encourages citizen participation; presents or discusses policies and programs affecting parks and recreation; studies issues; provides input on the values, goals and objectives of a program; develops program plans; and makes recommendations to both the Parks and Recreation Department and the City Commission for overall quality program/service deliveries.
---
SEEK (Save the Earth's Environment through Knowledge)
This is an environmental conference for high school students grades 10 – 12 in Florida sponsored by FFGC, held at Silver Springs State Park in July. TGC provides scholarships for students in our area to attend.
---
WEKIVA
A junior nature camp located at Wekiva Springs State Park in Apopka, Florida. Each week for 6 weeks from early June through the end of July, over 100 young boys and girls, grades 3-8, are welcomed to camp by garden club volunteers and friends, as well as highly qualified staff. TGC provides scholarships to campers as well as volunteers.
---
SPRING PLANT EXTRAVAGANZA

A Plant Extravaganza takes place in the spring on the grounds at 507 N. Calhoun St. Garden club circles sell plants and garden related items. Every hour Tallahassee Garden Club members share a short presentation on a gardening topic such as preserving magnolia leaves, propagating seeds, worry-free gardening with daylilies, invasive plants, native bee pollinators and all about pruning.
Free kid-friendly activities were provided by FSU Family & Child Science Undergraduate Club.