Tallahassee Garden Club – A More Beautiful Tallahassee…
The Tallahassee Garden Club has a rich tradition of being involved in the community, a few of our projects include:
• Blue Star Memorial Markers
• Community Christmas Open House
• Floral Arranging Classes, Senior Citizen Center
• Hope Community
• My Night to Shine
• Monthly Plant Exchange and Horticulture Programs
• Fall and Spring Flower Shows
• Spring Plant Extravaganza
• Tallahassee Memorial Hospital Cancer Center Healing Garden
• The Third Live Oak Trail
• US Forest Service's Penny Pines program for forest restoration
• Youth gardening in Leon County schools
---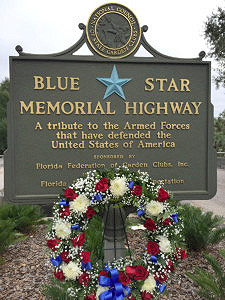 BLUE STAR MEMORIAL MARKERS
This project was initiated by National Garden Clubs, Inc. to honor all who have served, are serving or will serve in the future in the US Armed Forces. TGC was instrumental in placing two Blue Star Memorial Markers in Tallahassee, one on US Highway 90, between Riggins Rd and Phillips Rd., and another on Apalachee Parkway, two blocks east of the State Capitol. Additionally, TGC and other Clubs in District 3 maintain the Blue Star Memorial Marker in the National Cemetery located on US 27.The blue star featured on the brass memorial symbolizes the blue star on the WWII service flag which hung in so many homes of service men and women during that war. These markers are maintained and wreaths placed on them by garden club members each Memorial Day and Veteran's Day.
---
COMMUNITY CHRISTMAS OPEN HOUSE
The Christmas Tea and Open House, held each December, is a community event open to the public. Delicious refreshments, prepared by TGC members, are served, and all who attend enjoy the beautifully decorated Center and the opportunity to visit with friends.
A Petite Flower show is also held in conjunction with the Open House.
---
FLORAL ARRANGING CLASSES, SENIOR CITIZEN CENTER
TGC partners with the Senior Citizen Center to offer flower arranging classes to its citizens. Open to the public, it has been a welcome addition to the Club's outreach program.
---
HOPE COMMUNITY
TGC provided landscaping, plants and other outdoor improvements when this transitional housing community was established. Volunteers continue to meet regularly to maintain a garden dedicated to the memory of Kay Freeman, who served as director of the Homeless Coalition at the Hope Community.
---
MY NIGHT TO SHINE
The Tim Tebow Foundation sponsors "My Night to Shine", a prom for special needs members of our community. These teens and adults are treated to a complete prom experience.
TGC participates each year by making corsages and boutonnieres for presentation to each individual attending the Prom.
---
PLANT EXCHANGE AND HORTICULTURE PROGRAMS
Plant Exchange and Horticulture Programs are held on the Thursday after the 3rd Wednesday of months September – November and January – May.  This event is open to the public. Free plants provided by members are available to all participants. A short horticulture program follows the exchange. Door prizes are awarded and refreshments are served.
---
FALL AND SPRING FLOWER SHOWS
TGC conducts a flower show in the Fall and Spring, where members compete for awards in floral design according to FFGC rules. These shows are open to the general public at no charge. Awards are also given for horticulture entries.
---
SPRING PLANT EXTRAVAGANZA
Plant Extravaganza takes place in the Spring on the grounds of the club. Many Circles sell plants and garden related items. Short presentations are offered on gardening topics such as preserving magnolia leaves, propagating seeds, worry-free gardening with daylilies, identifying invasive plants, native bee pollinators and pruning guidelines. .This event is open to the public at no charge.
---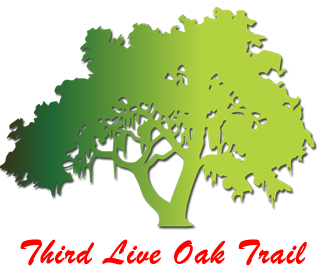 THIRD LIVE OAK TRAIL
The First and Second Live Oak Trails were introduced in 1940 and 1941in a concerted effort to preserve the Live Oaks of Leon County. TGC embarked on a journey to bring the Trail into the 21st century by creating an informative video, an interactive map and current photographs of Live Oaks that still reside on the original Live Oak trail. Included on the website is a children's downloadable workbook. The Club continues to support efforts to preserve the Live Oaks in Leon County including planting a live oak seedling on the grounds of Oak Ridge Elementary School.
---
TMH CANCER CENTER HEALING GARDEN
From its inception, TGC has been instrumental in the success of this special garden. Located on the grounds of the TMH Cancer Center, it is a place where cancer patients, their families and the Center staff can go for peaceful respite. Volunteers meet regularly to water, weed, change out perennials and annuals, and prune. Several Circles and TGC also support the Garden's needs through financial donations.
---
US FOREST SERVICE PENNY PINES PROJECT
National Garden Clubs, Inc. and its affiliates, including Tallahassee Garden Club, Inc. donate annually to this program to replant damaged forested areas.
---
YOUTH GARDENING
TGC sponsors gardens at seven schools in the Leon County District. These gardens represent a joint effort between a teacher, the students and TGC volunteers. Students study the ecosystem and learn the importance of pollinators and how plants grow from seed to harvest.
---
SEEK (Save the Earth's Environment through Knowledge)
The Florida Federation of Garden Clubs, Inc. sponsors an environmental conference for Florida high school students grades 10 – 12 each summer. TGC provides scholarships for students in our area to attend. The applications can be found on the FFGC website. Completed applications should be sent to the attention of TGC President, 507 North Calhoun Street, Tallahassee, FL 32301.
---
WEKIVA
The Florida Federation of Garden Clubs, Inc. sponsors a junior nature camp each summer at Wekiva Springs State Park in Apopka, Florida. Each week for 6 weeks from early June through the end of July, over 100 students, grades 3-8 attend the camp operated by garden club volunteers and friends, as well as highly qualified staff. TGC provides scholarships to campers as well as volunteers. The applications can be found on the FFGC website. Completed applications should be sent to the attention of TGC President, 507 North Calhoun Street, Tallahassee, FL 32301.
---
The Tallahassee Garden Club, Inc. also supports many community and civic organizations including:
City of Tallahassee Parks and Recreation Board
Friends of Maclay, Inc.
Goodwood Museum and Gardens
---
CITY OF TALLAHASSEE PARKS AND RECREATION BOARD
This board was created to advise the Tallahassee City Commission on all matters that affect the city and county's park and recreational facilities. Pursuant to the City's by-laws at least one member of the Board will be a member of the Tallahassee Garden Club. The Board encourages citizen participation; presents or discusses policies and programs affecting parks and recreation; studies issues; provides input on the values, goals and objectives of a program; develops program plans; and makes recommendations to both the Parks and Recreation Department and the City Commission for overall quality program/service deliveries.
---
FRIENDS OF MACLAY, INC.
TGC is a member and supporter of the Friends of Maclay, Inc. In 2020 TGC club members submitted a grant proposal to National Garden Club, Inc. on behalf of the Friends of Maclay, Inc. the proceeds of which would be used to replace trees lost or damaged in Hurricane Michael. The $5000 grant was awarded and on Arbor Day 2021 TGC members and Friends of Maclay gathered to celebrate the award.
---
GOODWOOD MUSEUM AND GARDENS
TGC is a member and supporter of this historic museum. Past participation includes co-sponsoring "The Inspired Gardener" featuring author Felder Rushing as well as holding several events on property.