Tallahassee Garden Club – A More Beautiful Tallahassee
The Tallahassee Garden Club, Inc., established in 1926, has a rich tradition of community involvement. From its first Plant Exchange in 1931 which traveled through neighborhoods in ox drawn carts, to the monthly Plant Exchanges of today, the Club's more than 500 members continue to sponsor and support numerous programs that enrich the city in countless ways.
Ongoing TGC projects, to name a few, include support for the Friends of Maclay, Inc., Leon County School youth gardens, Tallahassee Memorial Hospital's Cancer Center Healing Garden, the Hope Community and the Third Live Oak Trail. These and other projects are more fully discussed under the "Projects" tab of this site.
Consider becoming a member of this ever growing organization. You will become friends with a welcoming group of local planters, designers, educators, conservationists, environmentalists, and leaders. More far reaching than that, your membership makes you a member of the Florida Federation of Garden Clubs, Inc., Deep South Region and the National Garden Club, Inc. Through these organizations, you have an opportunity to attend numerous workshops held throughout the state.
---
A FEW TESTIMONIALS
Valerie Maud
A lovely place to have meetings, luncheons and my niece's rehearsal dinner! Spacious, well laid out, and a wonderfully preserved HISTORIC HOME that now houses the TALLAHASSEE GARDEN CUB. A true GEM downtown off Calhoun Street–one not to be missed!
Kiran Shrestha
Beautiful venue at a phenomenal location in the heart of Tallahassee. Highly recommend!
Melanie Bynum
A gorgeous site filled with beautiful plants and kind service. I took my graduation photos here, it was the perfect place with all the flowers!! They have a huge variety of plants and flowers, and you can even sign up to get coupons on future plant purchases for free!!
Melissa Rowe
They catered and bar tended and were very courteous, helpful, accommodating and made sure we were satisfied with every aspect. The location is beautiful also – the building and outdoor patio are elegant and decorated delightfully for the holiday season.
Herman Chelette
Nice large old southern plantation style house to serve as reception venue. We attended a memorial service with probably 150 our more attendees and there was plenty of space. Only knock was limited parking for a crowd of that size.

Tallahassee Garden Club

Presents

A Small Standard Flower Show


"The American Old West"
Friday, October 28, 2021
Entries will be accepted from 9:30am to 11:45am
Show will be open from 3:30pm to 6:30pm
DRIVE THROUGH EVENT
Donations Welcome
No, we are not cancelling the Fall Flower Show "The American Old West". We are just making an exciting change to help meet the challenges that everyone is enduring.
The Flower Show is going to be a walk-up or drive through extravaganza outside in the parking lot of the Tallahassee Garden Club. We are compressing the time schedule to just one day all on Thursday, October 28, 2021. Set up will be from 8:00am to 9:30am. Entries will be accepted from 9:30am to 11:45am. Judging will be from 1:15pm to 3:30pm.
The show will be open from 3:30pm to 6:30pm. Please, please stop in and take a look. You can bring another circle member or two and a friend or relative. What person wouldn't want to see beautiful plants and designs in a safer environment?
Member of National Garden Clubs, Inc. (NGC) Deep South Region Florida Federation of Garden Clubs (FFGC) District III FFGC
CLICK HERE FOR SCHEDULE AND RULES
---
---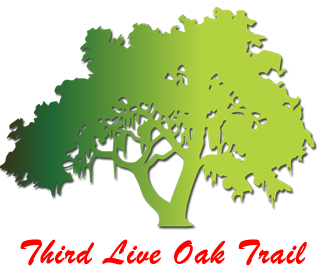 The Third Live Oak Trail – A project of the Tallahassee Garden Club which hopes to raise awareness of the importance of preserving Tallahassee's Heritage Trees. CLICK HERE.
---
COVID-19 UPDATE
Tallahassee Garden Club has taken steps to make our venue clean and comfortable for members and guests. We have on-going protocols for cleaning and sanitizing. We are again accepting event rentals from September 2020 forward. We strongly recommend that all follow CDC guidelines for wearing face coverings and maintaining social distancing. We also ask that everyone be personally responsible and not enter the property if running a fever or are otherwise ill. Please call the Garden Center at 850-244-3371 to leave a message. Our venue director will get in touch to help you with your plans. See you in September or November or….!